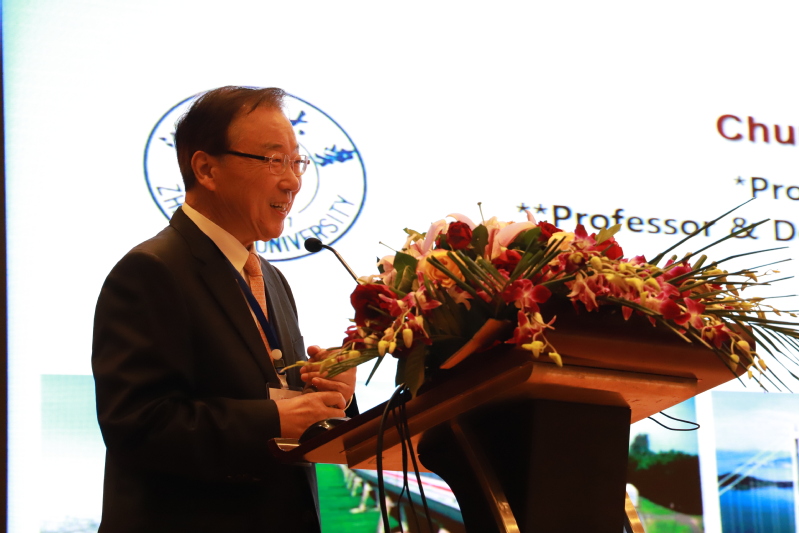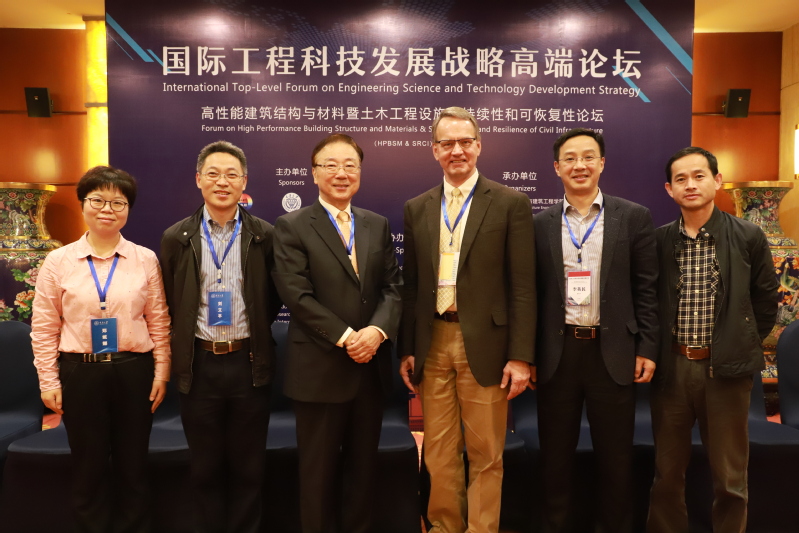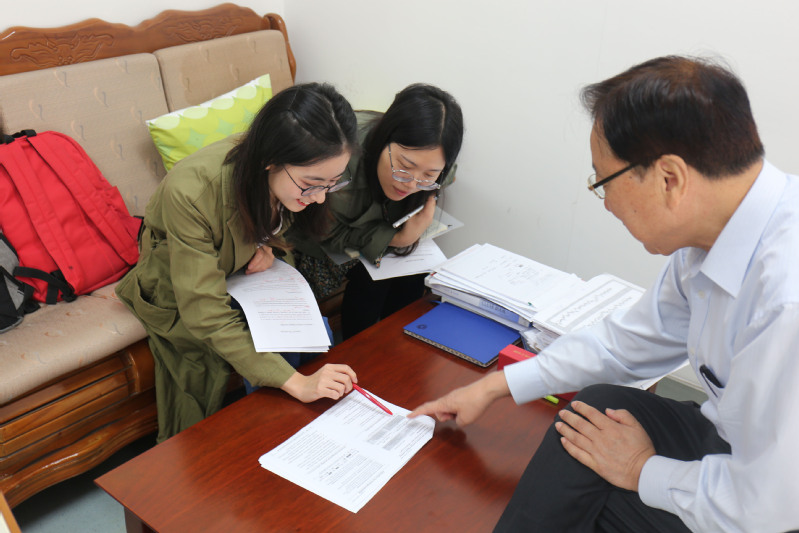 "When I was a boy, I thought that 70-year-old is already the age of a grandfather, but after I went to Zhejiang University, I feel that I am still very young". Wearing black hair and a suit, Professor Chung-Bang YUN talked about his working life in Zhejiang University, smiling from time to time. In January 2017, Chung-Bang YUN, Member of the Korean Academy of Science and Technology, Member of the National Academy of Engineering of Korea, joined Zhejiang University as full-time adjunct professor at College of Civil Engineering and Architecture.
Professor YUN has had many years of study and work experience in Korea and the United States. Before joining Zhejiang University, he was the Industrial Achievement Medal Winner of the Republic of Korea and world leading expert in structural engineering. Becoming a member of Zhejiang University is a new stage in his life. "I am very happy to join Zhejiang University and hope to do more work here."
Intelligent Pathway across Borders
Getting a good knowledge of ZJU and CCEA is the first job for Prof. YUN. Putting on his glasses, Professor YUN proudly talked about the QS World Rankings of ZJU and civil & structural engineering. "ZJU should be world's 'first mover', so is our civil & structural engineering!"
Just two months after joining Zhejiang University, Professor Chung-Bang YUN invited professors from China, the United States, Japan and South Korea to ZJU to jointly launch "The First China-US-Japan-Korea World-class University Forum", and half year later "The First ZHITU Symposium on Advances in Civil Engineering". "ZHITU" is the union of five world leading universities: Zhejiang University (ZJU), Hong Kong Polytechnic University (HK PolyU), University of Illinois at Urbana-Champaign (UIUC), University of Tokyo (UT) and Ulsan National Institute of Science and Technology (UNIST).
During that time, Prof. YUN was always seen busy preparing for the symposium. After communicating with organization committee for several times, he finally settled the proceedings and creatively designed the logo of the symposium which incorporates the names of five participating universities. ZHITU is "智途"in Chinese, which means intelligent pathway. "We hope to seek greater cooperation of education, research and exchange in the field of civil engineering among the five leading universities", said Prof. YUN.
Prof. YUN cared for every detail on the day of the symposium. He not only presided over the symposium, delivered academic report, discussed future cooperation with representatives, but also carefully checked the agenda and the status of participants from time to time by himself.
Apart from academic exchange and cooperation, cultivation of talents is also very important for globalization. Prof. YUN has always been encouraging students to go abroad and seeking to provide such opportunities for international communication. As the tutor of the First CCEA Go Global International Vision Expansion Program, he helped to provide 8 undergraduates and 4 postgraduates the opportunity to visit 3 prestigious universities where he had once studied or worked before, and the students all benefited greatly from this trip.
As an "engineer", Prof. YUN is not only a civil engineer worthy of the name, but also a global engineer who builds up the relationship for Zhejiang University to the world. "To be a world-class university, research is certainly important, but leadership is more important." Nowadays, Prof. YUN is delighted to see that there are more and more overseas students studying at Zhejiang University and that more and more English courses are offered for them. "I think it's time for Zhejiang University to transform itself from 'fast follower' to 'first mover', and to show its global leadership in civil engineering."
In recent years, taking the opportunity of "double first-class", CCEA (College of Civil Engineering and Architecture) has attached great importance to faculty internationalization and global talents recruitment. Now, there are 3 full-time foreign members (including 1 academician), 3 full-time adjunct foreign professors (including 2 academicians), 2 foreign chair professors, 25 part-time/adjunct foreign professors, 4 honorary professors, and 7 visiting professors working at CCEA, ZJU.
Interdisciplinary Teaching as the Core
Prof. YUN offers two postgraduate courses, "Structural Dynamics and Earthquake Engineering" and "Smart Structure Technologies". These courses are taught in English and what makes them different from the other courses is not only the language but the interdisciplinary teaching perspective.
"We felt a little difficult at first, since those English terminologies were already hard to understand." The eight-week course is very tight, but the students never give up, and manage to improve themselves and keep up with the curriculum. There are only about ten students in graduate class, and the small-size class ensures sufficient communication and interaction between teacher and students. "ZJU students are excellent," Prof. YUN speaks with pound, "Their English is good and work very hard. They are of great potential."
Interdisciplinary vision is vital in teaching and research. Prof. YUN requires his students to pay great importance to mathematics, because it is inseparable from civil engineering. In his teaching practice, he encourages students to broaden their horizons and to connect civil engineering to other subjects such as mechanical engineering and computer science. He always reminds his students "it's not wise to indulge solely in civil engineering, and not to be bothered with others."
"We cannot rely on others if we want to be global leader." Prof. YUN tells his students to look to the future. The development of next five, ten or even twenty years is what we should concerned about, though it is sometimes hard to be understood by others, but time will tell. "I told the students to take a long view and think about the development of the next decade. We cannot precisely predict the future, but we can be adequately prepared for the future."
Recalling his schooldays, Prof. YUN said that there was no scholarship when he attended university back in Korea and that he had to distract himself from study to do some part-time job in order to earn a living. Nowadays, students of Zhejiang University live a much better life with all kinds of scholarships. In his days of studying in the USA, it was quite common for him to stay up late until 3 or 4 a.m. to study. The classroom cleaner would sometimes made joke with him that they were the only ones who were working at that time. The hard-working experience of Prof. YUN is still of great value for students in current age.
A Kind Teacher and A Considerate Friend
In the eyes of his students, Prof. YUN is not only a kind teacher, but also a considerate friend.
Up till now, Prof. YUN has co-supervised several graduate students of CCEA. When going through their papers, he not only gives suggestions on the overall structures, but also provides careful modification of minor misspellings. While being moved by Prof. YUN's great patience, students also feel shamed and promise to pay more attention in writing. In case students hold different academic views, Prof. YUN still keeps his amiable manner, and if he is convinced by his students, he will express his sincere gratitude.
Prof. YUN is a rather considerate friend in life. He often dines together with colleagues and students. He also brings little gifts to his students when returning from Korea after winter or summer vacation. Once a student was ill in hospital, Prof. YUN immediately called her after he learnt the news and told her to have a good rest and not to worry about her research. To her surprise, she then received Wechat message every day concerning about her health from Prof. YUN. If she failed to reply one day, she would even receive a visit from a junior student of Prof. YUN who came to check her health as required by Prof. YUN.
"It's my honor to work here, the colleagues and students are all very good." Prof. YUN says with profound gratitude for all the people he met in ZJU. On weekdays, he usually dines together with colleagues and students and could only spare sometime on weekend to take dinners with his wife.
"China and Korea are quite similar to each other, so I didn't have much difficulty in the life here. I am very happy now." Prof. YUN communicates with people in ZJU in English, but he has been learning Chinese since he came. He bought some Chinese textbooks, managed to take two classes per week, and his students became his language teachers. "I still can't speak Chinese, but I can understand most Chinese characters."
Prof. YUN quoted Confucius' famous motto which says that "You can always find something to learn from the people who keep you company." With such humble attitude, he became a member of ZJU step by step, contributing to the globalization of the university.